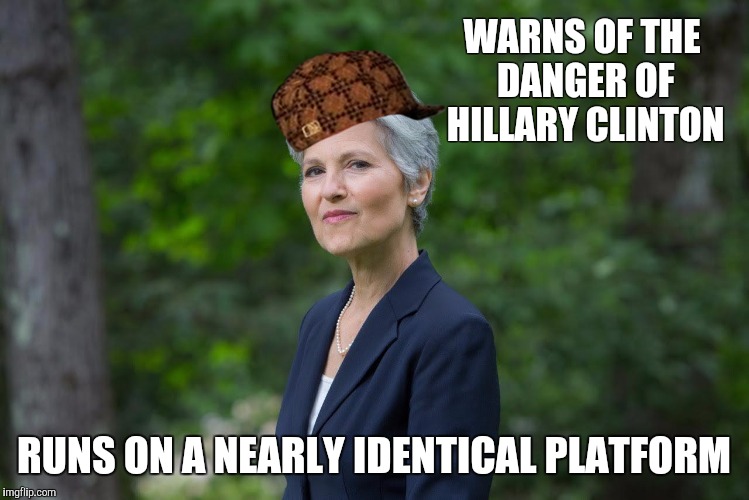 Image: http://www.imgflip.com
I'm only posting the following article because first; I find Jill Stein to be another nauseating hypocrite and fraud, second; because I am fed up with the far left and their cry-baby bullshit, which has been going on now since 11/8/16, and third; because I am evidently not quite ready to give up ranting yet.
This country never seems to run out of self-absorbed, lying, hypocritical assholes, like Jill the Covert-Corporate Shill.
Understand this, Stein received a mere 1.2 million votes, and only 52% of the population even bothered to vote. So what should this tell us, for those of us who are not yet blind and brain-dead? Jill the Shill is not the tail wagging the political dog, Jill is the nano spec of shit on a flea, sitting on a single hair of the tail, that is wagging the political dog.
And the faux feminists on the left are salivating like Pavlov's pooch once again: "Who gives a shit if almost one-half of the population wants Trump? Fuck them! They don't count! We have had a [faux] black man in office for the last eight years, and now it's time for a woman. Who cares how corrupt or inept she might be, it's time for Hillary or Jill, or even Whoopi Goldberg, to be president, and to hell with the rest of humanity and the planet! I am woman, hear me roar…."
These whiny, left-wing malcontents are slowly but surely driving me towards becoming a reluctant fan of the Trumpster, and I can't stand his corporate-capitalist guts:
It's On: Jill Stein Just Raised $4.8 Million for a Vote Recount in Key Swing States
NOVEMBER 25, 2016 | RT.COM | RT.COM
Editor's Note: It's $4.8 million now… and counting.
Via RT:
After meeting her goal of raising $4.5 million in just over 24 hours to cover vote recount costs in the swing states of Wisconsin, Pennsylvania, and Michigan, Dr. Jill Stein has once again upped her fundraising game, now asking for a total of $7 million.
The first goal was funding for Wisconsin, completed just in time to meet the recount filing deadline of November 25. In Pennsylvania the deadline for filing for a recount is Monday, while Michigan has a Wednesday deadline.
Stein, who won about 1.2 million votes in the presidential election, launched an online fundraising campaign Wednesday in an effort to "ensure the integrity of our elections" and "demand recounts in these three states where the data suggest a significant need to verify machine-counted vote totals."
Stein says the $4.5 million in funds is required by state law to cover "filing fees alone" and claims the total cost including attorney fees is likely to reach $6-7 million.
Together, the three states carry a total of 46 electoral votes, and Trump would have to lose all three in the recount for them to impact the presidential result. Stein's fundraising success has prompted mixed responses on social media, with some people suggesting the move undemocratic in refusing to accept the results as they stand, or is too late to be effective.
Read More Here:
Source: It's On: Jill Stein Just Raised $4.8 Million for a Vote Recount in Key Swing States | The Daily Sheeple