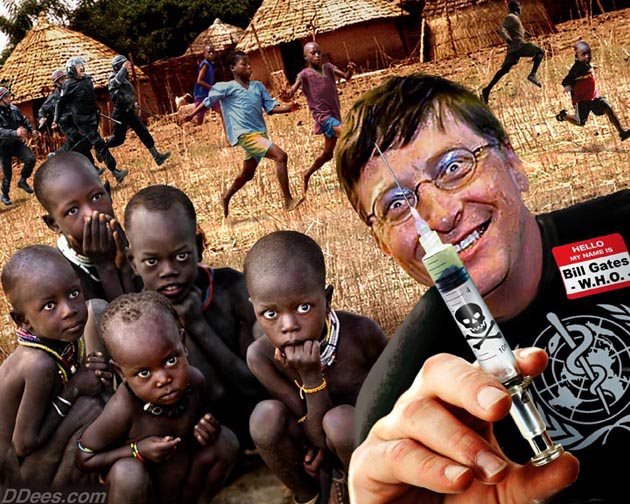 http://www.deesillustration.com
"…Vaccines have a long and sordid history of contamination. In 1955 batches of polio vaccine containing live polio virus infected and paralysed hundreds of children. The tragedy became known as the Cutter Incident for the laboratory where the vaccines had passed safety tests with flying colors…"
Dirty Vaccines: New Study Reveals Prevalence of Contaminants
Every Human Vaccine Tested Was Contaminated by Unsafe Levels of Metals and Debris Linked to Cancer and Autoimmune Disease, New Study Reports
Researchers examining 44 samples of 30 different vaccines found dangerous contaminants, including red blood cells in one vaccine and metal toxicants in every single sample tested – except in one animal vaccine.
Using extremely sensitive new technologies not used in vaccine manufacturing, Italian scientists reported they were "baffled" by their discoveries which included single particles and aggregates of organic debris including red cells of human or possibly animal origin and metals including lead, tungsten, gold, and chromium, that have been linked to autoimmune disease and leukemia.
In the study, published this week in the International Journal of Vaccines and Vaccination, the researchers led by Antonietta Gatti, of the National Council of Research of Italy and the Scientific Director of Nanodiagnostics, say their results "show the presence of micro- and nano-sized particulate matter composed of inorganic elements in vaccine samples" not declared in the products' ingredients lists.
Lead particles were found in the cervical cancer vaccines, Gardasil and Cervarix, for example, and in the seasonal flu vaccine Aggripal manufactured by Novartis as well as in the Meningetec vaccine meant to protect against meningitis C.
Samples of an infant vaccine called Infarix Hexa (against diphtheria, tetanus, pertussis, hepatitis B, poliomyelitis and haemophilus influenzae type B) manufactured by GlaxoSmithKline was found to contain stainless steel, tungsten and a gold-zinc aggregate.
Other metal contaminants included platinum, silver, bismuth, iron, and chromium. Chromium (alone or in alloy with iron and nickel) was identified in 25 of the human vaccines from Italy and France that were tested.
GSK's Fluarix vaccine for children three years and older contained 11 metals and aggregates of metals. Similar aggregates to those identified in the vaccines have been shown to be prevalent in cases of leukemia, the researchers noted.
Many of the vaccines contained iron and iron alloys which, according to the researchers, "can corrode and the corrosion products exert a toxicity affecting the tissues".
CMSRI_Corrosive Debris Meme_v1.pngThe researchers supply an image of an area in a drop of Sanofi Pasteur MSD's Repevax (diphtheria, pertussis, tetanus, polio) vaccine "where the morphology of red cells – we cannot tell whether they are human or animal- is clearly visible" along with the presence of "debris" composed of aluminum, bromine, silicon, potassium and titanium.
Feligen, the only veterinary vaccine tested in the 44 total vaccines sampled, proved to be the only sample free from inorganic contamination.
The investigation revealed aluminum and sodium chloride, the usual component of saline, as was expected, because they are named ingredients of most vaccines. Using a Field Emission Gun Environmental Electron Scanning Microscope, the researchers produced photos of this aluminum salt which formed white crystalline branches similar to frost on a windowpane on the top of the droplets of vaccine liquid. A German-made vaccine against allergies produced a layer of inorganic salts so thick that the researchers could not penetrate the drop not to detect other particulate contaminants.
Aluminum has a documented neurotoxicity all by itself. The French veterinary vaccines exclude it for this reason. The human ones don't. The researchers express concern about synergy of multiple toxins added to this known neurotoxin. "It is a well-known fact in toxicology that contaminants exert a mutual, synergic effect, and as the number of contaminants increases, the effects grow less and less predictable. The more so when some substances are unknown."
"The quantity of foreign bodies detected and, in some cases, their unusual chemical compositions baffled us," the researchers note. "In most circumstances, the combinations detected are very odd as they have no technical use, cannot be found in any material handbook and look like the result of the random formation occurring, for example, when waste is burnt. In any case, whatever their origin, they should not be present in any injectable medicament, let alone in vaccines, more in particular those meant for infants."
Undesirable impact
The study explains that these foreign injected impurities may explain a vast array of apparently unrelated adverse events associated with vaccination from headaches and seizures to fatigue, muscle pain, paralysis and sudden infant death syndrome. More likely than not, they speculate, vaccine contaminants will "have a more serious impact on very small organisms like those of children."
Once inside a body, foreign material in a vaccine shot, whether it is meant to be there as in the case of an aluminum, or not, in the case of contaminants, launches the formidable immune system into action.
As with anything small and foreign, its reaction to vaccine ingredients is potent, poorly understood, unpredictable, and as the Italian researchers say, may be "undesirable." The immune system may dispatch an army of large white blood cells called macrophages to engulf the foreign bodies and contain them in swellings and granulomas at the injection site. But if the contaminants are swept away in the blood's circulation to any distant site or organ including the microbiota, which regulate numerous functions including the immune system, their effect could be felt long after they covertly entered the body.
In some cases, the immune system my initiate an inflammatory assault against what it perceives as invader. This may include the launch of a host of players called cytokines. Some of these chemical messengers like interleukin-6 are incriminated in autism.
Vaccine DangersBecause the body cannot get rid of these contaminants — metal-based pollutants are not biodegradable – this kind of inflammation may be sustained and chronic and can manifest as autoimmune diseases when the immune system turns on its own cells as in multiple sclerosis or type 1 diabetes.
It's also been shown that the contaminants found in the vaccines can enter cell nuclei and interact with DNA, the researchers note. No one knows what that can do.
Dark history
Vaccines have a long and sordid history of contamination. In 1955 batches of polio vaccine containing live polio virus infected and paralysed hundreds of children. The tragedy became known as the Cutter Incident for the laboratory where the vaccines had passed safety tests with flying colors.
But there are dozens of other "incidents" which would better be called acts of criminal negligence, including:
Read More Here:
Source: Dirty Vaccines: New Study Reveals Prevalence of Contaminants | Global Research – Centre for Research on Globalization