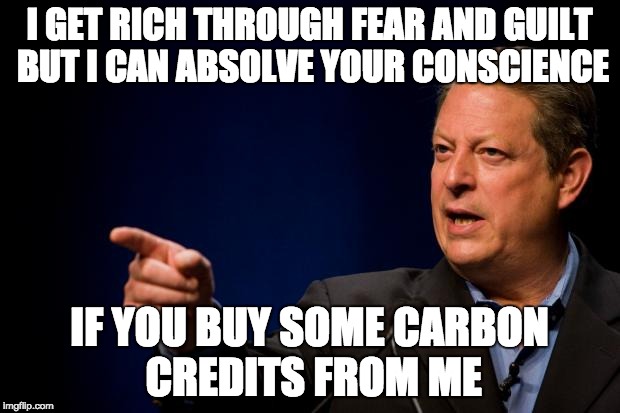 Image: http://www.imgflip.com
(A Repost from two years ago. Also See: Greta Thunberg wants you afraid, and big business will make a killing off it & Peace Versus Climate)
The most costly of all follies is to believe passionately in the palpably not true. It is the chief occupation of mankind. H. L. Mencken
Al Gore: HYPOCRITE, LIAR/CON-MAN/CRIMINAL, ELITE-SWINE STOOGE and EUGENICIST, just like all of his political cohorts in crime:
I) AL GORE'S HOME DEVOURS 34 TIMES MORE POWER THAN AVERAGE
Burns enough energy annually that typical house uses in 21 years
(DAILY CALLER) — On Friday, Al Gore's sequel to "An Inconvenient Truth" – "An Inconvenient Sequel: Truth to Power" – arrives in movie theaters across the country. But there's another inconvenient sequel worth noting and, like most sequels, this one is even worse than the original.
Gore's hypocritical home energy use and "do as I say not as I do" lifestyle has plunged to embarrassing new depths.
In just this past year, Gore burned through enough energy to power the typical American household for more than 21 years, according to a new report by the National Center for Public Policy Research. The former vice president consumed 230,889 kilowatt hours (kWh) at his Nashville residence, which includes his home, pool and driveway entry gate electricity meters. A typical family uses an average of 10,812 kWh of electricity per year, according to the U.S. Energy Information Administration.
It gets worse.
Read More Here:
Source: Al Gore's home devours 34 times more power than average
Here is more about Al the inconvenient buffoon:
II) Al Gore Schooled by Mayor of an Eroding Island
Eric Worrall / 8 hours ago August 4, 2017
Tangier Island, Virginia. By Seriousresearcher13 – Own work, CC BY-SA 4.0, Link
Al Gore Schooled on Climate Change By the Mayor of an Eroding Virginia Island

Nick Kangadis, @TruthOfChicago
August. 2. 2017

…

Mayor James Eskridge, of Tangier Island, Va., was one of the lucky audience members that got to ask Gore a question — one Gore was not prepared to answer.

Here's what Eskridge had to say:

"I'm a commercial crabber, and I've been working the Chesapeake Bay for 50-plus years. And I have a crab house business out on the water. And water level is the same it was when the place was built in 1970. I'm not a scientist but I'm a keen observer, and if sea level rise is occurring, why am I not seeing signs of it? Our island is disappearing, but it's because of erosion and not because of sea level rising, unless we get a seawall, we will lose our island. But, back to the question, why am I not seeing signs of the sea level rising?"
The video of the exchange is below;
Mayor Eskridge has clearly intensively studied the problem – his home is threatened by erosion. He stated that Tangier Island has a maximum elevation of around 4ft, so any significant sea level rise would be very noticeable. Mayor Eskridge knows what is causing the erosion. The cause of the erosion is not changes to sea level.
Mayor Eskridge wants a sea wall to protect his island, not pointless waffle about climate change.
My favourite Al Gore quote – trying to respond to Mayor Eskridge's insistence that the sea is not rising around Tangier Island.
One of the challenges of this issue is taking what the scientists say and translating it into terms which are believable to people where they can see the consequences in their own lives and I get that and I try every day to figure out ways to do that.
h/t Eric Simpson – Al Gore was left floundering when his claims of sea level rise in Chesapeake Bay were challenged by someone who lives there.
Source: Al Gore Schooled by Mayor of an Eroding Island | Watts Up With That?